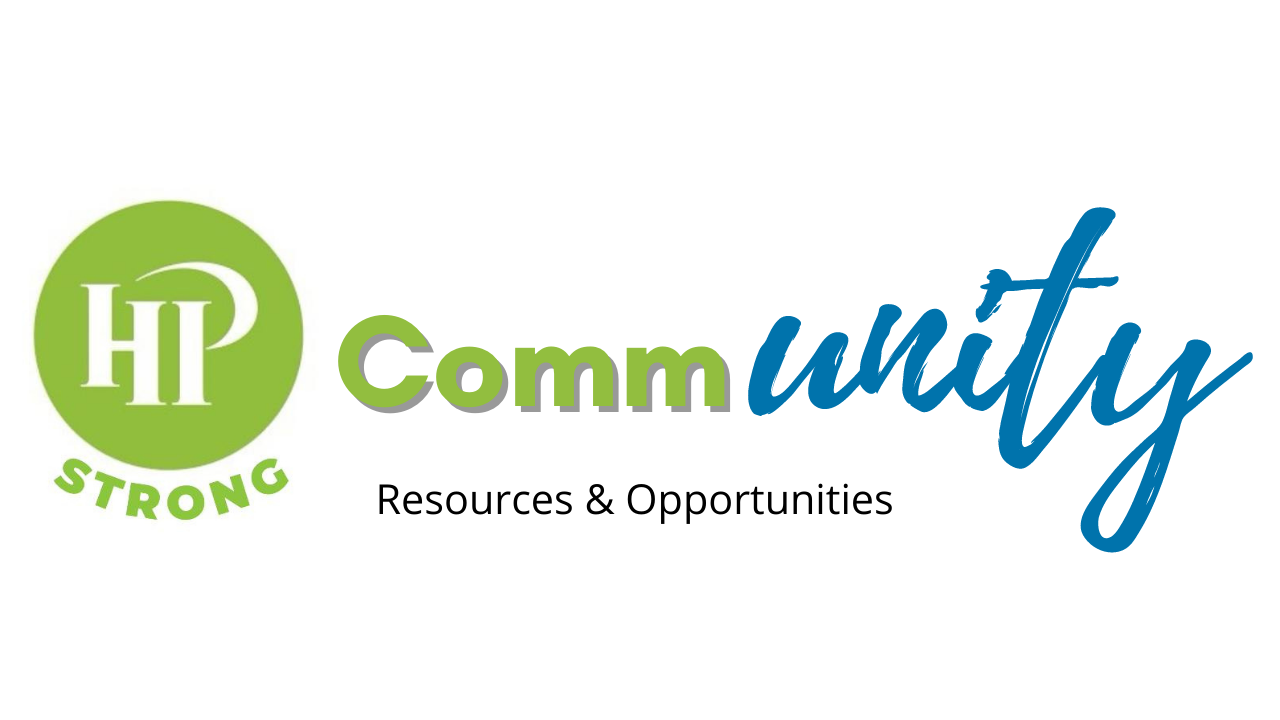 The Highland Park Chamber will provide clear, vetted, and timely information to be the trusted resource for our businesses and community. Please watch this page, your emails, and the page set up by the City of Highland Park for all information.
Many people have suggested ideas to be supportive and would like to give back to the community in their own ways, if you have any thoughts regarding how you would like to help support our community please share them in an email to HPCares@cityhpil.com.
-Ginny A. Glasner, President
Updated 12:00pm, August 12, 2022
Business & Employee Recovery Fund
In moving forward to heal our community, a Business Recovery Fund has been established in partnership with First Bank of Highland Park, Highland Park Bank & Trust, and the Highland Park Chamber in order to aid businesses and employees in recovery from losses sustained. We are now beginning our fundraising phase to assist HP businesses that endured losses from the July 4th tragedy. We have partnered with the Rotary Club of Highland Park/Highwood to accept tax-deductible donations for the fund.
As expected, our HP businesses have suffered true financial losses which strike at the vibrancy of our community.
If you would like to help us spread the word about accepting donations to the fund, or you or your business is in a position to help, please see here for further information, or donate now.
____________________________________________
____________________________________________
Below are images for use in any business that is currently closed due to recent events. Feel free to use them on all of your social media accounts and web pages.
We also want to encourage you to make updates to all of your social pages, yelp, and especially your "Google My Business" listing. Often customers will quickly google a business before actually going to their specific web page.
If you need assistance updating photos or information on your google listing you can learn more here. If you need assistance even creating a google listing, do not worry. This step-by-step document will walk you through it. If you need further assistance feel free to contact the Chamber at any time.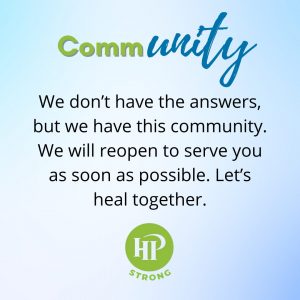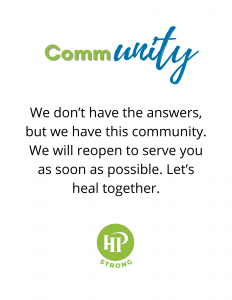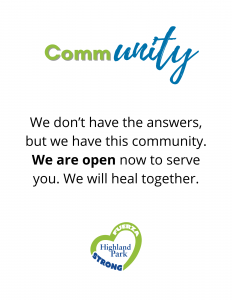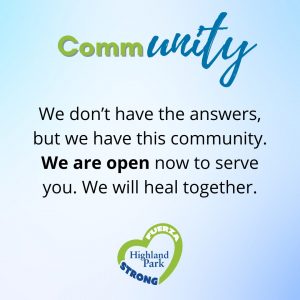 Fundraising Opportunities
Highland Park Community Foundation:
The Highland Park Chamber is proud work in partnership with the Highland Park Community Foundation, and we can assure you with 100% certainty that this fund will be used and distributed appropriately.
Highland Park Community Foundation has formed a July 4th Shooting Response Fund.  All donations will go directly to victims, survivors and local organizations that support them. All information can be found on their website. Make all donations HERE.
Mental Health & Family Assistance
Beginning Wednesday, July 20, you may visit 211LakeCounty.org to make an online appointment for the new Resource Navigation Center or call 844.714.5274 from 11:00 AM – 6:00 PM, Monday - Friday weekly. Trained navigators at the Resource Navigation Center will refer you to organizations and services who can best assist your needs. 
The Resource Navigation Center is located at Lincoln School (711 Lincoln Ave. W., Highland Park, entrance A1.) The Center is a partnership of government agencies, social services, and non-profit organizations serving residents of Highland Park, Highwood, and throughout Lake County. The Resource Navigation Center will use an appointment-based approach to ensure that people in need receive individualized attention. Appointments will be held at the Resource Navigation Center or the Highwood Public Library and Community Center, which serves as a satellite location. 
If you want to talk to someone but don't feel comfortable walking into the high school for services, people can also Call 211 for a referral. 211 is a service operated by United Way of Lake County, they can make referrals.
The Highwood Public Library's Health Equity team will offer individual therapy and support groups. These services are available for both English and Spanish speakers.
Visit https://highwoodlibrary.org/healing-after-trauma for additional resources available on our website.
The Zig Zag Institute (with the American Red Cross and American Psychological Association accordingly) have shared these two Documents:
Updated on July 13th. Check back frequently for added events. 
Past events:
On Wednesday, July 13 at 7:00 PM City of Highland Park will host a vigil at City Hall (1707 St. Johns Ave.) for the community to gather together and honor the memory of the victims.
North Shore Congregation Israel Large Sanctuary Recording (Jacki Sundheim was a temple staff member)
On Monday, July 11 at 10:14 AM, we ask the community to mark the one-week anniversary with a two-minute moment of silence. Area churches are requested to mark the moment by tolling their bells seven times in memory of the victims of this tragedy
Gather and Give Back: Gratitude Generation Office (815 Rosemary Terr., Deerfield, IL, 60015)  July 8, 10:00am-7:00pm (Please sign up for 1 hour time slots here)
Candlelight vigil: Everts Park (Highwood, IL) / July 6, 6:30-9:00 pm
Vigil: Makom Solel Lakeside (1301 Clavey Rd, Highland Park,) / July 6, 7:00 pm - INDOORS; MASKS ENCOURAGED
"Glencoe Stands Together with Highland Park" candlelight vigil Thursday (tonight) at 7:30 at Am Shalom and an interfaith service Sunday at 4:00 at Glencoe Union church
Gathering of Reflection and Consolation: Sukkat Shalom (1001 Central Avenue) / July 7, 7:00 pm
March for Our Lives North Shore Candlelight Vigil and Memorial: Sunset Woods Park (1801 Sunset Rd, Highland Park, IL) / July 7, 7:45-8:45 pm
To help the healing process, Infinity Foundation is offering a series of free classes for the Infinity and Highland Park communities.
These special evening and weekend afternoon classes are live and on Zoom from July 11-23.
Go to the top of Infinity's homepage at www.infinityfoundation.org for class descriptions and registration.