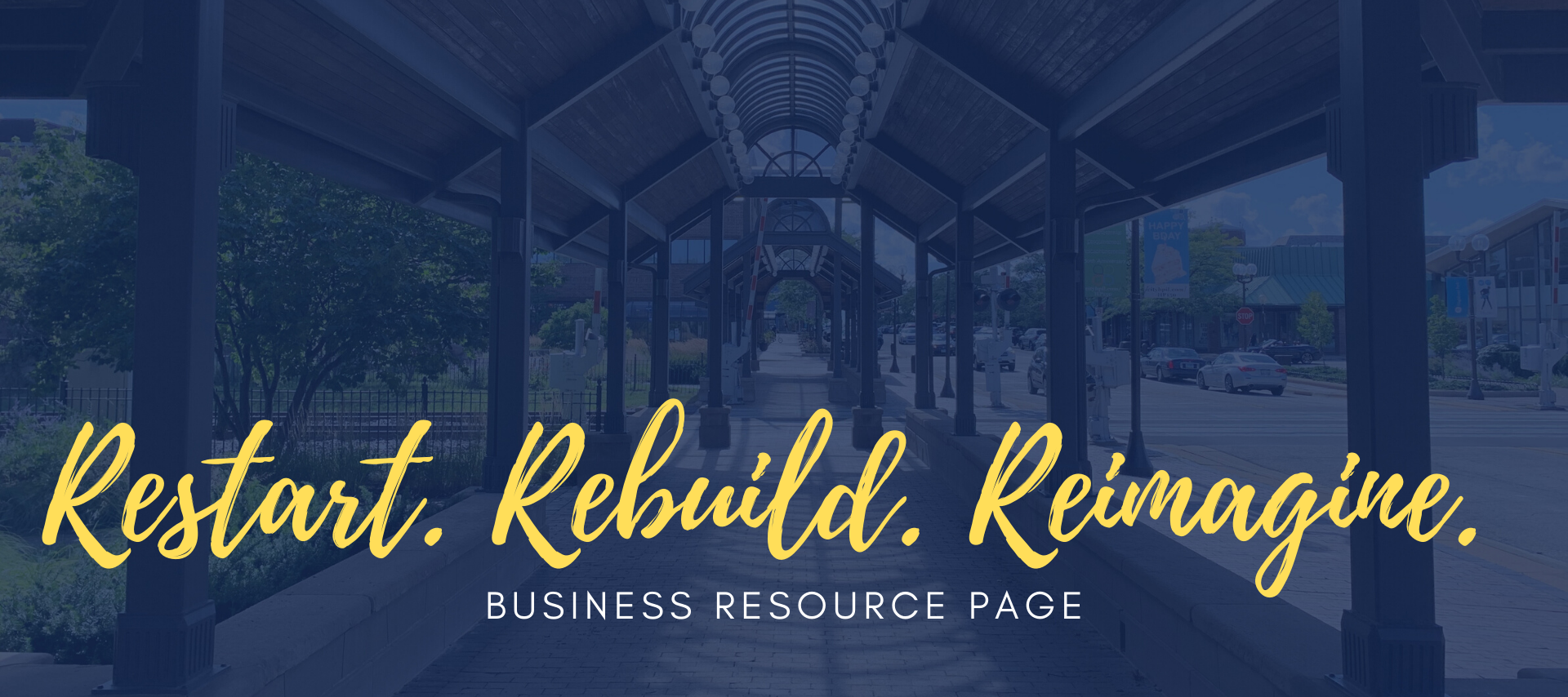 While the current health crisis has temporarily altered the way we do business, the Highland Park Chamber's commitment to the advancement of the Highland Park area remains as strong as ever. The Chamber team will continue serving the needs and advocating for the interests of the business community by working remotely at this time.
The Highland Park Chamber of Commerce has created this page as business resource hub for the Highland Park area. We have gathered information from trusted sources to share business resources and relief, and community and health information that is accurate and unbiased in a timely manner.
We want to remind everyone that the Chamber of Commerce is not a health official or government organization. We will update this page as information becomes available.
We are a resilient community with a shared dream of prosperity for all. We are Stronger Together.
'Ask the Experts' - Virtual Panel Discussions
The Highland Park Chamber is dedicated to providing the tools that our businesses need to navigate the road to recovery.
Even though we may not have the opportunity to gather together and meet in person, it is still so important to stay connected. That's why we will continue to host virtual meetings where we connect through video to share ideas, encouragement, and allow various panels of "experts" to discuss topics that may be of help for our local community and it's businesses.
Recorded on 9/16/20 
"Navigating Uncertain Times – Non-Profit Budgeting & Strategic Planning"
Presenters:
Courtney Olson, First Bank of Highland Park
Brian Gaumont, Wipfli LLP
Keeping up with the changing times is crucial to the success of your non-profit, which means keeping an eye on trends in the industry and pivoting accordingly. In this webinar, our presenters discuss an action plan that will help you define priorities you need to be taking with your strategic plan and budget.
Join us to discuss these questions and more:
What does a "new normal" look like?
How far into the future can I realistically plan?
How do we stay relevant when our core operation has been upended?
Recorded on 8/12/20 
"Introduction to Video Marketing"
Part 2 - Youtube
Presenter:
Bruce Himmelblau -
Blue Sky Video Productions
This 3 part series will explore the social media platforms of Facebook, Instagram, YouTube and LinkedIn to give you an overview of how your business can use them to grow your audience and distribute your messaging to potential customers.
This second session will focus on YouTube content/content ideas, content distribution, video as sales support, and google search/website SEO.
Recorded on 7/30/20 
"Introduction to Video Marketing"
Part 1 - Using Facebook & Instagram for Business
Presenter:
Bruce Himmelblau -
Blue Sky Video Productions
This 3 part series will explore the social media platforms of Facebook, Instagram, YouTube and LinkedIn to give you an overview of how your business can use them to grow your audience and distribute your messaging to potential customers.
Facebook/Instagram - personal vs business
What is the difference between Posts and Stories?
What are Hashtags and how to use them for search and discovery?
Using Analytics to improve your content
Bonus:
Facebook & Instagram Live
Recorded on 7/16/20 
"PPP Loan Forgiveness"
*Disclaimer - We apologize, the first few introductory minutes missed the recording start.*
This session is all about the process for PPP Loan Forgiveness, requirements and considerations, using the EZ vs. Full Application Form, and tax implications to your business.
Presenters:
Courtney Olson -
First Bank of Highland Park,
Sally Hoban and Arlene Levin - Wipfli
The highlights they will discuss:
Maximum compensation allowed for owners (S Corp vs C Corp vs LLC's vs sole proprietor's) and impact of health insurance and retirement benefits
Maximum compensation allowed for employees
60/40 rule
FTE haircuts and exceptions
Reduction of compensation haircuts and exceptions
How and when to apply for forgiveness
Extended payback period from 2 years to 5
Loan forgiveness application EZ form applicability
Documents mentioned in this discussion:
Presentation Slides, Article on the interaction of PPP loan forgiveness and FTE/Wage reductions
Recorded on 6/30/20
"Phase 4 Reopening - What It Means for Business and 
Overview of the BIG program."
A conversation with Agnes Masnik
Northern Stateline Regional Manager & FDI
IL Department of Commerce & Economic Opportunity
Join the Highland Park Chamber and our colleagues at north suburban Chambers of Commerce for a virtual conversation about reopening your business under the Phase 4 Guidelines. Learn the latest information from DCEO about the Business Interruption Grants (BIG). We will leave plenty of time for Q & A.
Participating Chambers: Highland Park Chamber of Commerce, DBR, Evanston, Glenview, Lake Forest/Lake Bluff, Lincolnwood, Niles, Northbrook, Wilmette/Kenilworth, and Winnetka/Northfield.
Documents mentioned in this discussion:
Recorded on 6/25/20
Ask the Experts: "Financial Essentials: Organization & Risk Management"
We are joined by representatives Sharon Cohen, Vice President/Senior Financial Advisor, and Steven Greene, Assistant Vice President/Financial Advisor from Merrill Lynch Wealth Management to discuss organization and risk management for your financial essentials.
Some of the questions they will cover are:
·         What are the benefits of having organized financial documents?
·         What are the most critically-important estate documents to have?
·         Most people think of risk as – will my account value move with the markets - Did you know there are 4 other primary financial risks to consider when you retire?
Documents mentioned in this discussion:
Slides from webinar, Organizing Your Financial Life PDF document
Recorded on 5/27/20
Ask the Experts: "Marketing Beyond Covid-19"
Presenter: Lexie Markarian, Director of New Business Development, Street Level Studio
Despite our current "stay at home" order, and the state's long term partial re-opening plan - Now is the most opportune time to ramp up marketing initiatives and take the steps to broadcast your brand across various marketing campaigns. But you don't want to just be a noisy loudspeaker.
In this panelist session, Street Level Studio will outline some steps to help you have a strategy, develop a plan, create branded communications, and make a calculated and targeted marketing effort which will will allow your business to open up again with a strong voice and presence.
Documents mentioned in the discussion:
Recorded on 5/20/20
Ask the Experts: "An Online Business Tune-up"
Presenters: Larry Bruck and Bob DuFour
SCORE North Cook and Lake Counties Chapter
Consumer buying habits have now changed - probably for the long haul. Join us and presenters from S.C.O.R.E North Cook & Lake County Chapter for a health check across the online purchase journey.
Simply put, this will be an Online Business Tune-up. 
In this continuation of our "Ask the Experts" series, our guests from S.C.O.R.E. will discuss having an effective online growth strategy, and then a three phase Online Business Tune-up guided by key questions and action steps.
Documents mentioned in the discussion:
Recorded on 5/6/20
Ask the Experts: "Re-Opening Your Business - What the New Employment Normal May Look Like"
You have just been given the green light to reopen your workplace. But what does that look like? How do you reopen with a workplace that is compliant with appropriate guidelines conduct your business, and, at the end of the day, get work done?
Join labor and employment attorney, Kenneth A. Henry, Attorney at Law to learn about, social distancing, temperature checks and maintaining a healthy workplace, employee and employer rights, unemployment, the monitoring of customers, and how long the "new normal" may last.
Documents mentioned in the discussion:
Restore Illinois 5 part Plan, IDPH -Stay at Home Order, Restore Illinois - A Public Health Approach to Safety, FFCRA - Employee Rights,  Thermal Camera for Smart Phones
Recorded on 4/30.20
Ask the Experts: "Now What?"
You may have applied for an SBA EIDL loan or a PPP loan. Have you received it? Now what? How do you position yourself correctly to be as successful as possible? Do you know what is required from an accountability and compliance standpoint? What are the next steps?
Join in discussion with our accountants and lender to learn best practices and to make sure that you understand how recording and tracking your spending accurately is critical to making sure your loan is forgiven.
Our panel of experts:
Courtney Olson, Vice President of Business Banking, First Bank of Highland Park
Sally Hoban, Senior Accountant, Wipfli 
Karen Mitchell, Senior Manager, Risk Advisory Services, Wipfli 
Documents mentioned in the discussion:
PPP Expense Tracker, PPP FAQ's, How to Calculate Loan Amounts, PPP Loan Forgiveness Memo
Legal Info For Employers
Click on the image below for a comprehensive and regularly updated resource pages of legal   information for employers regarding COVID-19, assembled by Fisher Phillips.

Remote Working Tools
Some available remote working tools and IT providers to help you continue working efficiently from home. These resources are being updated continually.
Please share any updates or requests for inclusion via email.
Safe Haven IT
847.338.1874 mobile | 847.594.3209 phone | 847.557.1306 fax | www.safehavenit.com
Provides remote assistance to insure that your business network and employees are up and running and working remotely. They also offer different resources and solutions for accessing business networks remotely.
MACnician
224-770-0070 (calls only)| 224-770-1707 | (calls, texts, FaceTime) | info@macnician.com
Macnician is open for pickups and drop-offs at their Highland Park location.  They also offer remote, phone, and FaceTime Support for all Apple products.
List of Free Software and Computer Services
To assist a new wave of remote workers and get some publicity at the same time, many software developers and service providers have started to offer free licenses or enhanced versions of their software and services.
Grow With Google | Remote Work Hub
Resources and free tools and tips to help you or your teams work smoothly, even while working remotely or from home